Take a much-needed break to a locale full of fresh mountain air, lake calm, and small-town charm. Point your compass to Big Bear and enjoy it all. When these are the major features of your vacation destination, you'll want to soak up all the outdoor fun you can while you're here. When it comes to extra relaxation, there are plenty of local spas in Big Bear and the surrounding area where you can pamper yourself for ultimate relaxation.
Find the Right Home to Complete Your Relaxation Here!
Altitudes Massage & Spa
Pamper your body with a relaxing day at the spa. Start with a massage, then build from there. You can choose a massage only, or add-on extras like aromatherapy, hoot stones, hot towels, a hot pack, or deep tissue massage. Pay some attention to your hands and feet with a foot massage and reflexology, hand or foot treatment like a scrub, mask, essential oils, and more. Enjoy a back treatment including dry brush, scrub, mask, essential oils, cream, and a relaxing massage. Beautify every inch with a facial or back facial that targets your skin's unique needs. Ask about packages as well as services just for men. The spa is located at 42184 Moonridge Road, Suite #4 in Big Bear. Call 909-747-9696 for an appointment.
Elevations Day Spa
Elevate your spa experience! Relax and rejuvenate from head to toe when you choose from a full menu of salon and Big Bear spa services. Enjoy a facial or peel, body wrap or mask, or waxing services. Work all the kinks out with reiki, shiatsu, or a variety of other massage techniques with add-ons like hot stone, CBD oil, cupping, and others. Complete your new look with mani/pedi services, eyelash extensions, permanent makeup, and a visit to the salon for a new cut, color, or style. There are even medi-spa services like Botox, dermaplaning, and more. Ask about specials for couples, and services that cater to the unique needs of men. The spa is located at 42007 Fax Farm Road #1 in Big Bear. Call 909-866-7405 for an appointment.
Hideaway Salon & Spa
Pamper yourself and your loved ones. The spa specializes in services for large groups, so if you're having your wedding, a girls' trip, or family reunion where you'll all be joining in the relaxation, the spa is ready to handle everyone's needs. Enjoy a massage, facial, back facial, or body scrub. Add on services like Chinese herb scrub, body mask, warm compress, and more. Give your feet a little love and combine a foot treatment that includes herbal exfoliation, hydrating mask, and warm towel wrap for your feet along with a full body massage. By appointment only. The spa is located at 545 Thrush Drive #1 in Big Bear. Call 909-878-2606 for an appointment.
Mountain Mobile Massage & Spa
For over 20 years, the dedicated massage therapists at one of the best spas in Big Bear have been bringing their services right to their clients! You can also choose to visit them in-house at 42718 Moonridge Road. They offer one-on-one massages for two people, either by two separate therapists at the same time, or one therapist seeing both clients consecutively. Massages are 1-2 hours in length. For massages at your accommodations, extra fees for travel time/gas, massage table, oils, sheets, and other materials the therapist must bring to accommodate the experience. Enjoy a deep tissue and trigger point therapy massage, Swedish, sports, reflexology, and others. Add on extras like aromatherapy, body butter, facial massage, CBD, or a head/scalp treatment for head-to-toe relaxation.
Canna Massage and Wellness
Choose from a variety of massages, from Swedish, deep tissue, and sports massage to reflexology, trigger point therapy, or a special prenatal massage. Add-on services include CBD/THC scalp treatment to increase relaxation and blood flow, strengthens hair follicles, and replenishes moisture. Enjoy a canna foot bath featuring a THC & CBD or CBD-only bath bomb for a cleansing foot soak. Feel the power of Reiki healing energy, or a unique sound healing experience like a sound bath immersion or meditation. There are special packages for couples that want to pamper themselves together. Relax together in style with a sweetheart package with romantic touches like bath bombs, chocolates, and a single rose or other special treat to share. The spa is located at 40585 Big Bear Blvd, Suite #4 in Big Bear. Call 909-863-3020 for an appointment.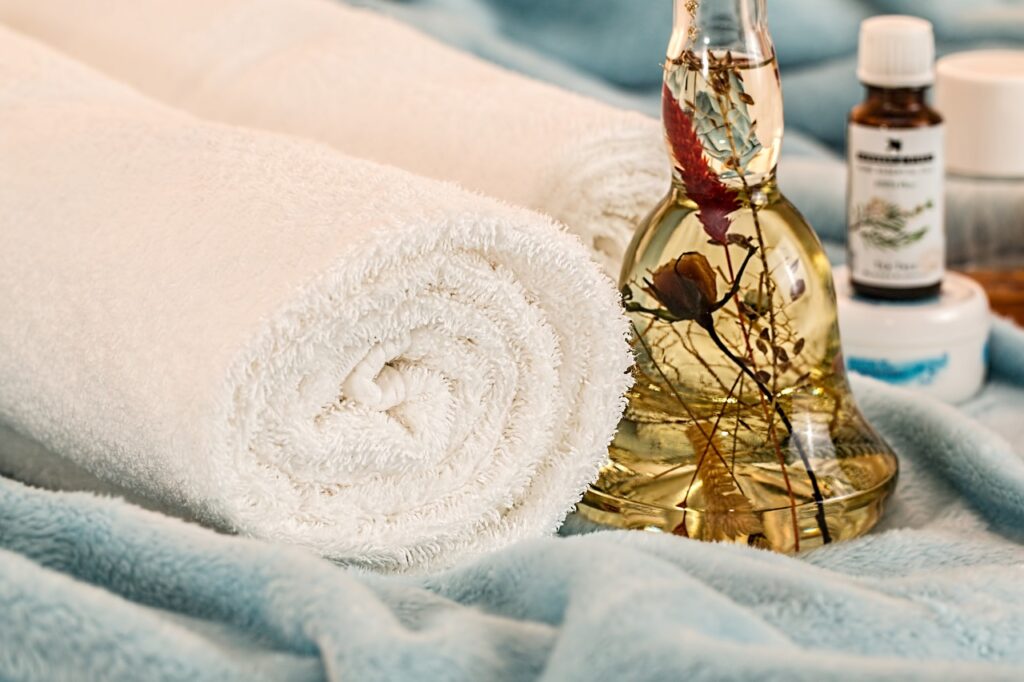 Total Relaxation in Big Bear
Extend the spa experience of your Big Bear vacation to your accommodations by booking a vacation rental with Big Bear Vacations. Make a home-cooked meal in the fully equipped kitchen. Gather together on the couch and watch a movie or spend some time outdoors with the myriad of activities available. Choose a cozy one-bedroom for your rejuvenating solo stay, all the way up to a sprawling five-bedroom for a fun family or group reunion that includes plenty of pampering. Book a premium unit for upgrades like stainless steel appliances, granite counters, hardwood floors, flat screen TVs and more!
Contact us today to book and take the first step toward planning your Big Bear spa retreat!