Our Owner Services Team at Big Bear Vacations has partnered with the best and most experienced Realtors in Big Bear to assist with your next purchase or sale. Our go-to Realtors live locally and understand the unique nature of the Big Bear and Lake Arrowhead Real Estate Markets.
These top producing agents have proven success records in maximizing exposure to all of their listings through on and off the mountain marketing and you can trust them to work with you, communicate with you and to learn about your property and your goals.
They will also use their knowledge of the pricing, listing and negotiating process to best serve you. Their goal is to make sure you have happy buyers and they understand the business cycle of our Mountain community. All of our real estate partners work with top notch lenders to get buyers the best rate and mortgage loan possible! Whether you are looking to buy or sell in our beautiful area, we can help get you in touch with the best real estate agent for you!
---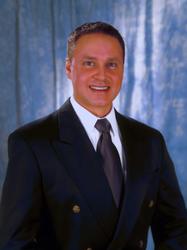 David Fischer 
David has been around the Real Estate and Housing Industry for over 25yrs., serving residential single family homes/cabins, and low-rise & high-rise buildings.
David has also been a licensed Engineering Officer since 2003.
David is a permanent resident of Big Bear. David not only services the Big Bear area, but also the services clients in Lake Arrowhead and off the mountain (down-the-hill).
---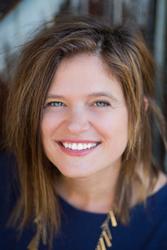 Rachael Smith
I was born and raised in Louisville, Kentucky where I attended the University of Louisville to pursue my degree in Management and Marketing.  Since graduating I became a full time resident of Big Bear Lake for 10 years now.  When I made the transition from Louisville to here I started with a Vacation Rental Management Company
Big Bear Vacations.
From starting as the Call Center Sales Coach I moved up and through the company eventually to be the Chief Financial Officer.  With sales being my passion I decided to pursue a career in Real Estate.  I joined a team with Re/max in 2013.   In 2016, I helped 64 clients with their dream of owning or selling Real Estate in Big Bear Lake, CA.
In July 2016, I passed my California Real Estate Brokers Exam, becoming a licensed Broker.
In my spare time, I enjoy my 2 little girls, traveling the world with the family and training for ultra marathons.  My current goal is to run a 50 Miler and just completed my 5th Ironman.  I love my job; I love meeting new people; I love where I live; I love the outdoors. Let me help you make your dream a reality!
rachael.mountainuniquesearch.com
---
Big Bear Real Estate
The Realtors at BigBearRealEstate.com are the comprehensive experts in revenue-generating resort market real estate investing in Big Bear.  They are the most qualified real estate professionals in Big Bear to educate and consult with buyers and investors who want to diversify into resort market real estate ownership.  They have a specialized understanding of what criteria will make a good vacation rental, and what terms represent a great deal.  Whether or not a buyer wants to rent out his or her cabin, understanding the value of the income-generating potential of your property is key to making a smart investment decision
---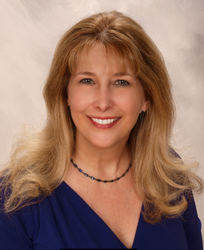 Jaycie Marich, Realtor
For over 17 years I have called Big Bear home, and I would like to share my passion with you. Would you like to be able to get away on the weekends, or live full time in Paradise? It would be my pleasure to help you find the home of your dreams at a great price and the right location.
My experience as a business owner for over 23 years allows me to utilize my strong customer service skills to benefit you. I will put my knowledge and expertise to work for you and negotiate the best price for your new home. Are you ready to sell your home? We will find the right buyer for you and get you the best value possible. My Real Estate Team has over 55 years of excellent personalized service.
I am a dedicated full-time Realtor and problem solver committed to professionally finding the solutions to a successful purchase or sale of your home. I will be available to you, work hard and keep in contact throughout the process; address your questions or concerns and build a relationship of trust and respect. What does your perfect home look like?  Do you want a secluded home in the forest, lakefront property, views of the lake, or be near ski slopes? Whether you want a family vacation home, a full-time residence, or income property, it will be my pleasure to help you find the perfect home of your dreams!
---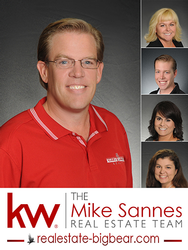 The Mike Sannes Real Estate Team, Keller Williams Big Bear
Our extensive knowledge of the local inventory and understanding of Big Bear's unique real estate market provides our clients with a distinct advantage. We invest heavily in technology to bring you the best tools. We consistently track and analyze market data to bring you the best research. When combined with our local expertise and innovative marketing strategies, our team delivers exceptional results for both buyers and sellers.
Some of the key benefits of working with us include that we bring the information and insight necessary for clients to make educated decisions; we pride ourselves in honest and open communication, making the process of buying or selling straightforward and efficient; and we strive to provide an extremely high level of dedicated, professional service.
We bring you analysis, not guesswork. Put our experience and expertise to work for you today.  realestate-bigbear.com