It's officially Springtime here at Big Bear Vacations and with the amazing winter we had everyone is out on the trails looking for the best waterfall hike in Big Bear! Normally I'm a huge advocate of "flip flop" hikes like the Woodland Interpretive Trail on the N.Shore of BB. An easy hike with great views…that you can do in about 45min in your flip flops. However, it's starting to warm up on the mountain and the snow melt is creating some spectacular waterfalls in Big Bear all over the forest! So it's time to strap on our hiking boots, grab our dogs and hit the BIG trails! Or at least the moderate trails with cool waterfalls.
One of the most popular hikes in Big Bear is the ever "insta" worthy Castle Rock trail off the 18 near the Dam in the Western most point of the lake. The hike  passes through rugged granite rock outcroppings, offers great views of Big Bear. You can't help but breathe in all that fresh mountain air as you make the accent to the top. Seriously, the first mile is like a straight incline up! It's totally worth the burning calves as you find yourself at the base of the Rock and scramble up to get a panoramic view of the lake and town. I always recommend starting the accent at the conveniently marked area at the base; a generous and enterprising local put a birdhouse at the base of the rock a few years ago to help all us newbies with choosing the right spot to scramble, and take a few selfies. But don't stop there! The hike continues for another mile past Castle Rock taking you to Bluff Lake and the Champion Lodgepole Pine, and this is PRIME waterfall area.

It's always a good idea to talk to our local Forest Rangers and Volunteers at the Discovery Center in town as well before going on any trip. You can pick up an Adventure Pass from there as well, so you can park safely at any trail head, and of course take advantage of their knowledge of the area to ask them for their favorite trails too!
I actually did that myself when I first moved to Big Bear and I was directed to Cougar Crest trail, right next to the Discovery Center. If you are up for something a little more challenging, try it out! CC trail is about 5.4 mile long hike that starts off at Highway 38. This trail could easily take half a day to complete, but take your time and bring food and snacks for a rewarding picnic lunch over the amazing view at the peak. This trail starts out with a gentle slope for about one mile before getting steeper, and apparently it's full of good things to smell for dogs! Not many chances for waterfalls here, but TONS of wildflowers this time of year. Plus, if you want to get really wacky you can hop onto the Pacific Crest Trail from here and go all the way to Canada or Mexico!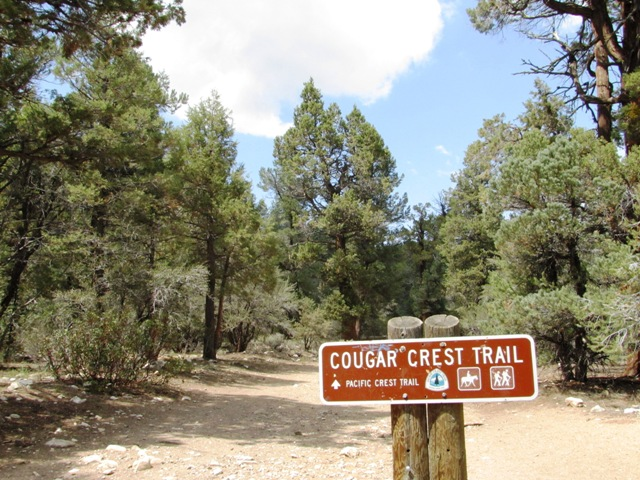 My last waterfall recommendation is actually a trail I'm planning on hitting this week with friends and is a small drive away from Big Bear in Forest Falls. For this is the type of hike I recommend staying in Boulder Bay for. The homes are closer to the dam and are easier access to our beautiful lake. The beautiful "Big Falls" trail is located in Forest Falls, about a 20min drive(for locals) and about a 40min drive for those who follow the speed limit or lower. It promises to be an exciting and short hike to get to see the waterfalls and involves maneuvering across boulders and crossing a flowing creek. There's also a "hazard/danger" sign near the base of the falls that are a good caution for those who are not used to unstable cliff conditions.   
Be safe out there and see you next time!
-Chris