When you look up the phrase "the life of Riley" the definition tells us that it means a luxurious or carefree existence and when you actually choose our Big Bear Vacations Life of Riley #1608 for your exciting Big Bear getaway, you can live that lifestyle in a space that offers all the comforts of home. This appropriately name sanctuary offers an intimate experience for up to 3 guests and 2 pets; yes, this 1-bedroom, 1-bath Big Bear home rental invites your fur babies to join in on the vacation of a lifetime! Located within walking distance to the lake, the marina, local restaurants, and shops, guests can spend their days exploring the beauty and charms of Big Bear and their evenings comfortably ensconced in a rustic and woodsy cottage tucked away in the pines. Take a few moments out of your real-life to enjoy a walkthrough of the Life of Riley and get a sneak peek into your future vacation in Big Bear.
Check Out Life of Riley #1608 Here!
Relaxation Starts Here
As the door swings open, revealing your home for the next however many days, step inside and feel its charms already begin to relax and soothe. An open-concept floor plan has no secrets and as you walk further inside you will feel immediately at home. The living room features wainscotting of knotty pine, accenting the rustic charms of lodgepole-style furnishings, and the comfortable sofa placed across from the television that allows guests to keep up with their favorite shows. A fully equipped kitchen tucked away in the far corner of the cabin provides a taste of country life with knotty pine cabinets and countertops the color of a baby's blue eyes. You may not use this space for much more than brewing a pot of coffee, keeping your leftovers cold, and creating your favorite cocktails, but isn't it nice knowing that it is there to be used if needed? The dining room sits just outside the country kitchen providing a farmhouse-style table for dining, game playing, or quiet conversations with your favorite traveling companions, moments made even sweeter when enjoyed in front of a roaring fire in the brick fireplace that centers the room. Gather around this table and watch the smiles return to the face of your recently sullen teen and hear the laughter that rings through the rafters, reminding you again how important this getaway to Big Bear was for your entire family, including the furry pooches curled up under the table at your feet!
Serenity and Tranquility
The sleeping spaces in the Life of Riley, and yes, this one-bedroom cabin has two sleeping spaces, are tranquil and quiet. Sleep deep in the single bedroom offering soft linens, its own television, and windows that look out onto the landscape that surrounds the cabin. (Draw the curtains at night so as to keep the room dark and to be able to sleep as late as you like!) Artifacts that bring the fun of Big Bear inside the home include a pair of vintage snowshoes that hang over the bed serving as a fun accent to the space. To reach the second sleeping area, you only need to look up to the loft that looks over the cabin and offers a tranquil hiding space for more sweet dreams! Still maintaining a sense of privacy occupants can pull the curtains shut in the loft for even more privacy and on nights when sleep may be elusive another television provides entertainment for all who sleep here! Tile floors, a walk-in shower, a pedestal sink, and fluffy white towels give the final room in Life of Riley a retro vibe that charms as well.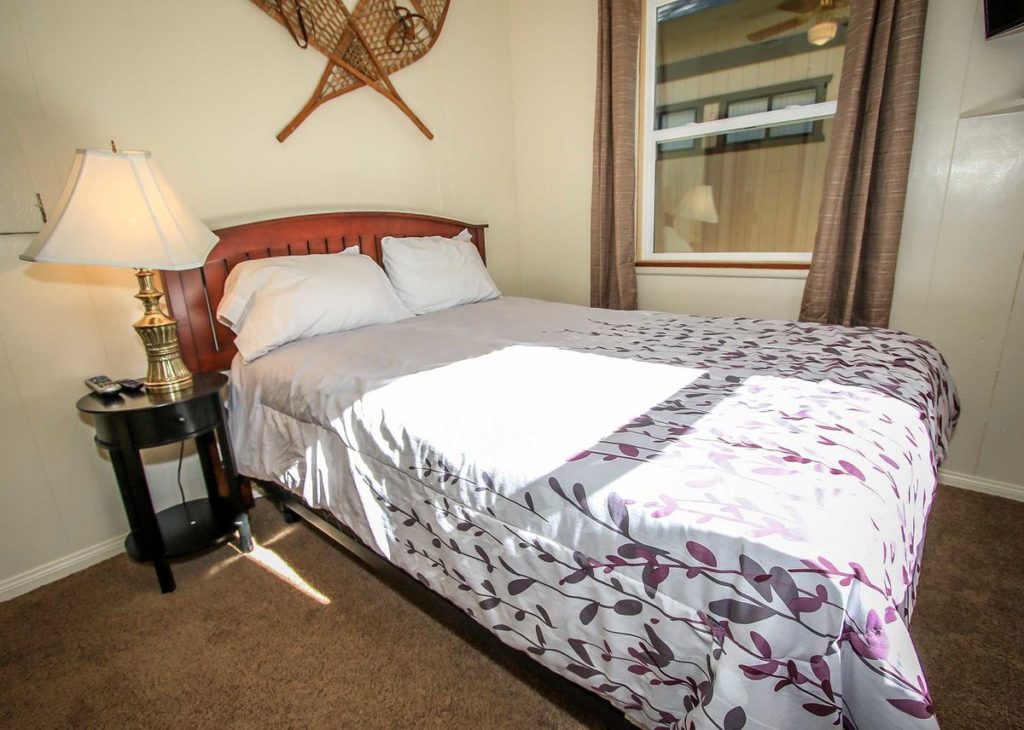 But Wait, There's More!
For such an intimate space, Life of Riley #1608 packs a lot of punch, especially as you walk outside to the large deck that offers one final surprise amidst all that is expected. A hot tub reigns supreme on this outdoor deck, providing warmth and comfort as well as a touch of romance to the area. A barbecue grill can be found out here as well allowing the chief griller in your family the opportunity to strut his or her stuff on nights you decide to stay in, but the hot tub is destined to be the star of your vacation! Soak away the aches and pains of vacation hijinks as you sip wine and stare out into the inky darkness of another perfect Big Bear night; the hot tub closes down at 10 PM, but after all your Big Bear adventures we are pretty sure you will be ready for a long night of deep sleep and happy dreams almost before the stars begin to twinkle!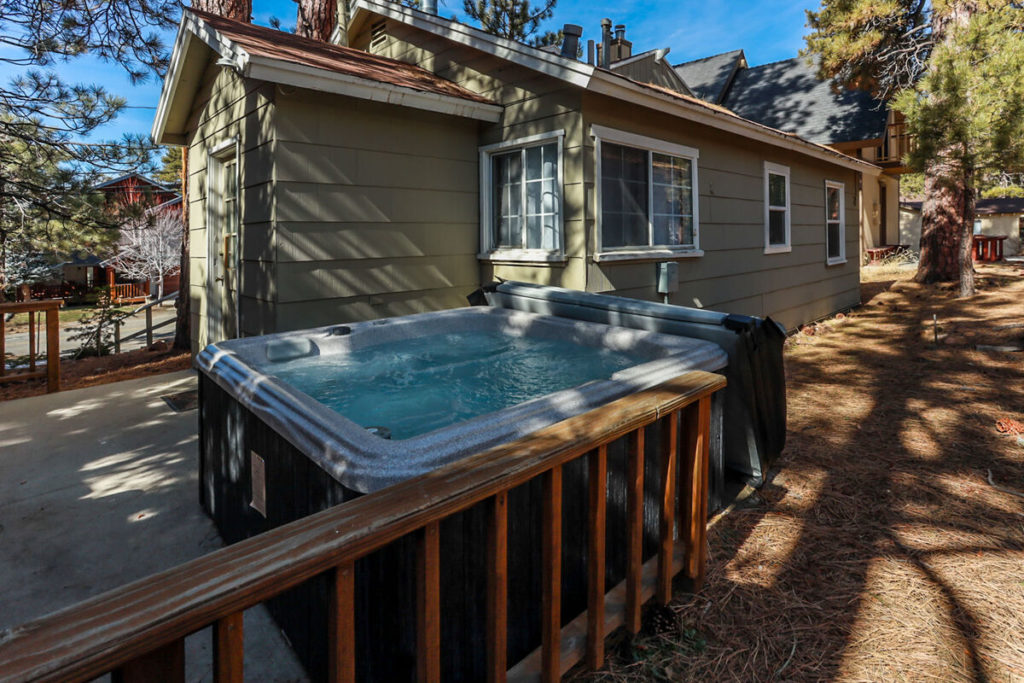 Reserve the Life of Riley for Your Vacation in Big Bear Today
The real-world retreats upon your first steps inside helping you find your joy when you rent this special Big Bear Vacations cabin today! Contact us to book!
Life of Riley #1608 is Waiting for You!