Some of the best moments in life can be the ones that offer simpler pleasures. A quiet morning sipping coffee as the sun rises in the horizon and your sleeping pet lies curled in your lap, not willing to wake up quite yet, but unwilling to be away from your side. Soaking in the hot tub on a cooler spring evening, watching the steam drift upwards to the heavens as the bubbles comfort and soothe. And enjoying a family vacation with the newest member of your "tribe" a small child that still gets excited to see their parents and whose small hand just feels right tucked into yours. All of these simple moments can be yours when your Big Bear getaway brings you to our most charming of rentals, our Sunrise Cottage 1800. This A-Frame cottage rental in Big Bear offers 1 bedroom, 1-bathroom, and provides all the comforts of home for your entire family (up to 3 guests max) this property is pet friendly, so bring along your precious fur baby!
Check Out Sunrise Cottage #1800 Here!
Uniquely Comfortable
If you have never seen an A-Frame cottage before, you may be wondering what to expect. Surprisingly, an A-Frame cottage is exactly what it sounds like; a property that is shaped like the capital letter A! The shingled roof starts wide at the base and rises up to a point, providing a slightly shaded overhang for the front deck of Sunrise Cottage 1800 and a wall of windows greet you, including the glass doors that ensure there is plenty of light.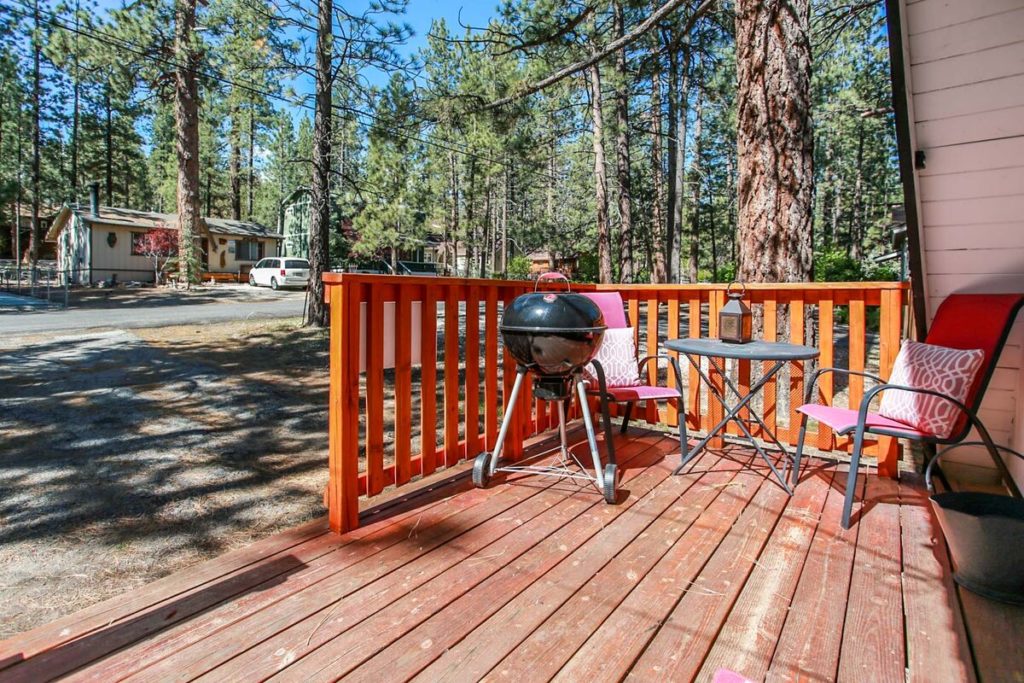 Step inside to a unique space, filled with polished wood floors and crisp white walls and start exploring your home away from home. The living area is the first of the rooms, featuring comfortable seating that offers a mid-century modern appeal, a fireplace which will come in handy on cooler days, and a flat-screen television that will provide entertainment when you aren't exploring the beauty of Big Bear! Macrame wall hangings and other artistic pieces continue the mid-century modern décor and give guests a whimsical reminder of that simpler era. The eat-in kitchen is a galley style space, offering plenty of counter space, colorful seats at the two tables that line the expanse of the room, and a large gas range that will bring joy to all who cook or bake here. Shiplap planks line the walls and ceiling of this room, keeping it bright and airy and a coffee maker ensures that your morning go-juice is readily available. Continuing your tour of the first level, guests will walk through the kitchen into a cozy bedroom containing a colorfully clad twin bed, more macrame art, and a bookshelf filled with books and toys, meant to be used by the entire family. The only bath is down here, offering a single vanity and tub/shower combo.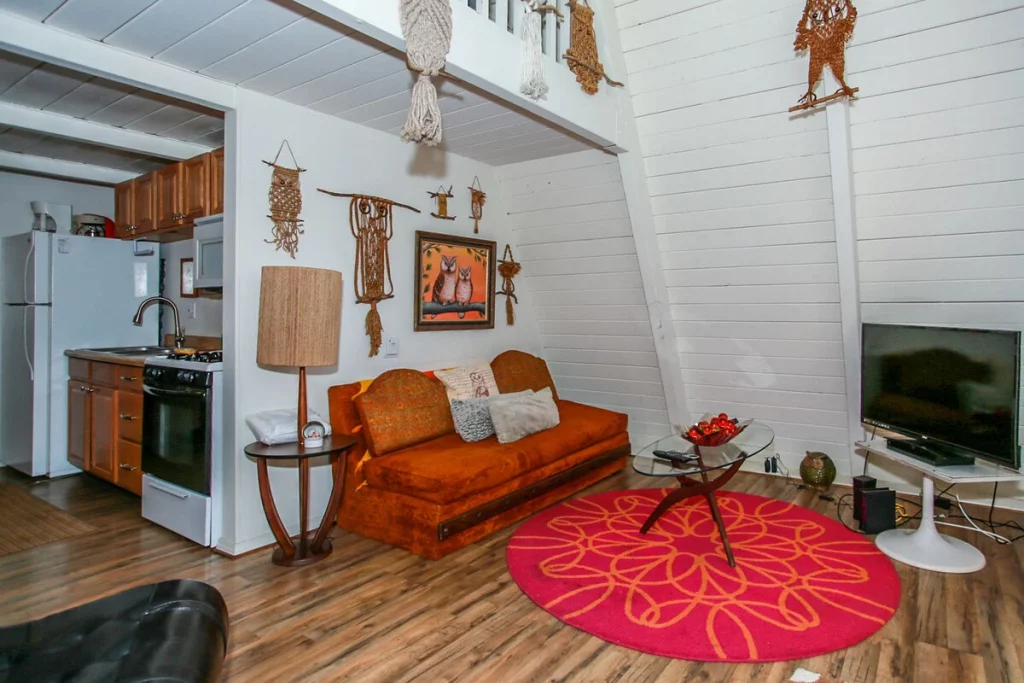 Upstairs, the loft that looks over the lower level of the A-Frame, offers a queen bed tucked under the sharp slant of the roof. Quiet, peaceful, and private, this room shares views of the outside through the wall of windows at the front of the space, while still managing to conceal. A brightly colored Eames inspired chair sits at a desk at the landing with a turquoise rug separating the sleeping area from the work space, should you need to check in for virtual meetings.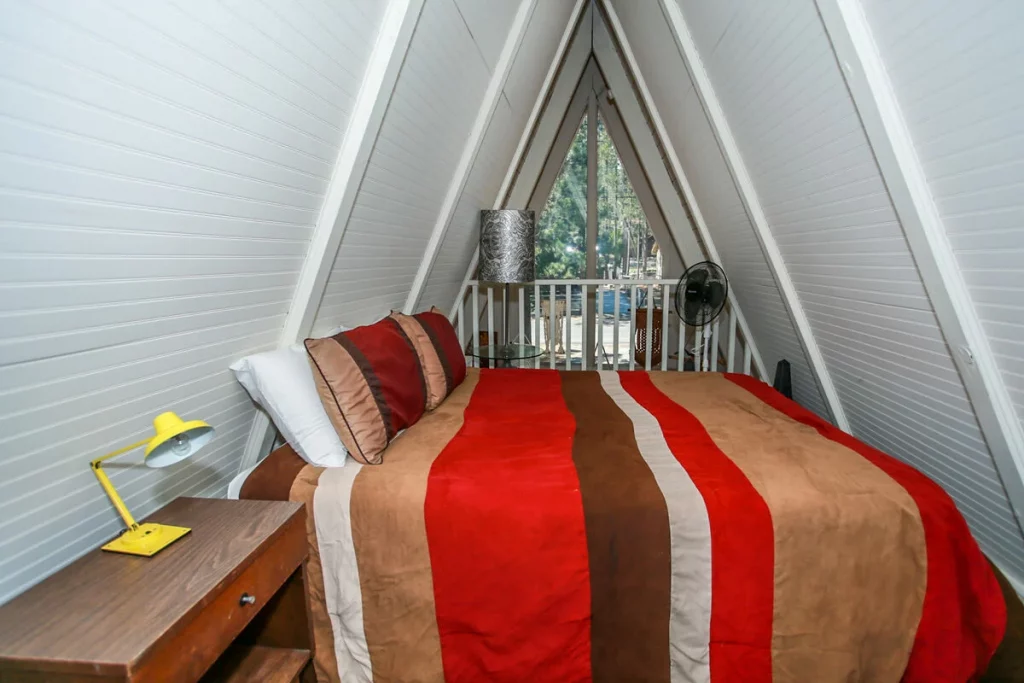 More to Enjoy on Your Big Bear Getaway
Cozy and comfortable, Sunrise Cottage 1800 is truly designed to meet all the needs of travelers and if there was nothing else to explore, we are sure that guests would still have the vacation they always dreamed of within the walls of this sweet cottage. However, we at Big Bear Vacations always like to go the extra step, which in this case includes a completely fenced in backyard. Offering a safe place for your fur baby to run around and explore, a bubbling hot tub built for four sits out here under the deep blue of the California sky. Wonderful to use at any time of the year, there is a special joy found in soaking in its warm depths during the colder months, perhaps enjoying a glass of a truly excellent California wine as you do! A small charcoal grill is provided for guests use as well, located on the front deck, and extra seating can be found in the backyard and on the front deck, ensuring that there are plenty of opportunities for relaxing when you choose Sunrise Cottage 1800 for your vacation sanctuary!
Find your Peace
The world today can be a harsh place filled with too much noise, too many people, and not enough time to do everything that needs to be done. Your Big Bear vacation, however, can change all that, offering a quiet peace and a joyful simplicity that will soothe your soul. Contact us to reserve this charming cottage today!
Learn More About Sunrise Cottage #1800 Here!