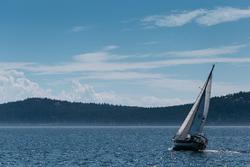 Big Bear is renowned for its quiet alpine ambiance that invites both visitors and locals alike to bask in the tranquility of striking mountain peaks, dense and shaded forests, and sparkling lakes. In particular, Big Bear's most popular lake, known as Big Bear Lake, is the ultimate place to go for that idyllic spring and summertime experience on the water, with long days spent soaking up the sun and partaking in a number of different types of water-bound recreation and sports.
Few pastimes on Big Bear Lake are as peaceful and rejuvenating as sailing! With the breeze in your sails, you can traverse the vast expanse of this gorgeous mountain lake on an unforgettable Big Bear boating adventure.
Top Tips for Sailing in Big Bear
To begin, you'll want to purchase a day-use permit and obtain a Big Bear Lake boat rental from one of the local marinas, such as Holloway's, Captain John's, or Pine Knot. These marinas will usually have lessons and Big Bear boating rental equipment available as well.
If you already have your own sailboat, you'll simply need to purchase a day-use permit from one of the local marinas located all along the shores of Big Bear Lake, or from one of the two public boat launches (located half of a mile west of Fawnskin on the northwestern shore or a quarter-mile west of the Stanfield cutoff on the northeastern shore).
The price of your day-use permit will depend on the length of your boat. For boats longer than eight feet in length, one-day permits cost about $25. Permits for two to four days range from $45 to $85 in price, while seasonal permits—which are valid from the first of April until the end of March—cost $110. The price of a single-day permit can be applied toward the price of a seasonal permit, if desired. Similarly, if your boat is less than eight feet in length, the cost of a single-day permit (priced at $20) can be applied toward a seasonal $50 permit. Two- and three-day permits cost $30 and $40.
Once you have your permit and have been cleared for inspection for Quagga Mussels (an invasive species), you're ready to embark on your Big Bear Lake boating adventure!
For information regarding Big Bear Lake Rules and Regulations regarding watercraft please visit: https://www.bbmwd.com/rules-and-regs/
Let the Vacation Experts at Big Bear Vacations Help You Plan Your Next Getaway!
Contact our reservation specialists to learn additional information about Big Bear's multitude of activities and attractions when you book your trip accommodations in one of the quaint vacation rental cabins that Big Bear Vacations has available for your stay today!