Big Bear is well-known for its plethora of outdoor activities and attractions. Among these, Boulder Bay Park stands out all year long as an excellent place for visitors and locals alike to immerse themselves in the beauty of the outdoors.
Situated just two miles east from Big Bear Dam, this newer park was constructed during 2010 and has since become a hub for picnicking and other outdoor recreation. In fact, we at Big Bear Vacations even take our lunches here occasionally during the summer, as Boulder Bay Park is incredibly close to our office. Learn more about Boulder Bay Park below!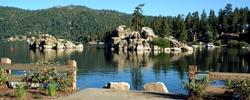 Fun Activities and More at Boulder Bay 
From getting your blood pumping with activities like canoeing and kayaking to simply watching people enjoy their day in the park's beautiful and peaceful ambiance, Boulder Bay Park has it all.
In summer, visitors can traverse the waters of Boulder Bay y canoe, enjoy leisurely fishing off of the park docks, or wind down with a picnic lunch—especially on the weekends. A bandstand in the park occasionally hosts summer concert series.
During fall, the weather turns chilly and the lush greenery of the park embarks on its stunning transition into fiery hues of red, orange, and gold. At this point in the year, Boulder Bay Park becomes the perfect place to take a picturesque photo of Big Bear's mountainous scenery at its finest.
Winter in Boulder Bay Park and Big Bear means an abundance of snow recreation. From snowball fights to sledding, visitors of all ages will enjoy letting loose in the fluffy snow!
Beginning April 1st, the spring season brings about the vibrant shades of green and vast swathes of blooming flowers, trees, and plants. It's during spring that Boulder Bay and Big Bear Lake become the most ideal, with the pleasantness of sunshine and mild climate setting the stage for scenic hikes along the lake or tranquil kayaking or canoeing excursions on the water. Just keep in mind that the water will likely still be extremely chilly from the winter season, so you won't want to fall in.
No matter when you come to visit, Boulder Bay Park has much to offer for your vacation experience in Big Bear!
Escape to the Mountains of Southern California with Big Bear Vacations
Contact our reservation specialists for further details on Boulder Bay Park and a variety of neat places to check out during your time in Big Bear when you book your lodgings with us today!