Date: June 9 & 10, 2018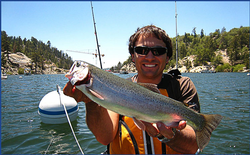 Fishin' for $50 K Trout Derby is back! Grab your family and friends and get out on the lake for a chance to win up to $50,000 with 5 tagged fish worth $10,000 and more. 50% OFF entry fee for all Big Bear Vacations guests.
Ask our Vacation Planners for details 855.638.3971
Awards
5 tagged fish worth $10 K each!
Adult Male and Female
1st $500
2nd $250
3rd Free Entry 2019
Child Male & Female
1st Saving Bond
2nd $100 Saving Bond
3rd Free entry + rod
Entry Cost
Adult Entry 16 & older $80 (price is for both days of the derby)
Child Entry 15 & younger $30 (price is for both days of the derby
Discount Entry
50% off entry with pontoon rental or lodging
50% off with child entry with paying adult
20% off first respondents & military
10% off local and second homeowners
Awards Ceremony at Bartlett Events Area at 3:00 pm on Sunday. Awards, Raffles, Food and More.