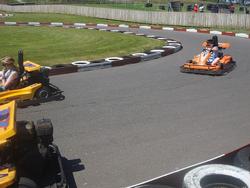 Like most activities and sports in Big Bear, go-karting brings out that timeless spirit of fun and competition, all wrapped up in a motorized and lively race around the go-kart track in big Bear.
A classic pastime that's exciting for visitors of all ages, go-karting in Big Bear is the perfect outlet for family fun during your time here!
Where to Go for the Best Go-Kart Racing in Big Bear
When it comes to Big Bear's go-kart tracks, there are a couple of different options. Mainly, your choices will come down to Big Bear Speedway and Putt'N Around Go-Karts at Magic Mountain.
Big Bear Speedway is located off of Big Bear Blvd., near Big Bear Lake and across from the Big Bear Lake Convention Center. Here, you can ride in RT8 mini-race cars made by Sodi Karts with Honda motors on a scenic track surrounded by towering trees. Open all summer long, Big Bear Speedway operates on Saturdays from 10:00am until 6:00pm and on Sundays from 10:00am to 4:00pm. Drivers must be at least fourteen years old and fifty-four inches tall to drive a single-kart and eighteen years of age to drive a double-kart. Double-kart passengers must be at least four years old.
In order to ride these Big Bear go-karts, you'll need to purchase a membership. A single kart membership is priced at $20 and includes a license, a head sock, and a single race. Double-kart memberships cost $25 and similarly include a license, head sock, and race. Memberships are good for an entire year, which is perfect for families planning on racing multiple times during a season or returning to Big Bear throughout the year. Races purchased after your membership range from $15 for a single-kart race to $48 for four single-kart races or three double-kart races.
South of Big Bear Lake and west of the Village area, Magic Mountain's Putt'N Around Go-Karts features karts with Honda motors, a pleasant track, and inexpensive rates. Riders must be at least fifty-seven inches tall in order to drive a single-kart, and double-kart drivers must be eighteen years old or older to drive. Single-kart races are just $6, while double-kart races are $8.
Big Bear Vacations – Your Gateway to the Best of Big Bear
Contact our team of reservation specialists to learn additional information on the wide range of attractions and activities that you'll encounter in Big Bear when you book your stay in one of the lovely vacation rental cabins that Big Bear Vacations has to offer for your trip accommodations today!