No matter where or when you take a well-deserved vacation, you want to enjoy everything the area has to offer. Activities, attractions, dining, and shopping. Whether it's for an essential you accidentally left behind or for a fun souvenir to remember your trip, you'll surely find yourself visiting the shops during your Big Bear shopping respite.
Find the Perfect Home Here!
Brown Bear Gift Shop
The store has been a staple of the community since 1924. Browse the shop to find fun souvenirs, gifts, and novelty items. You'll find home décor, t-shirts, toys, and many bear and outdoor-themed items as well. The store is located at 675 Pine Knot Avenue in Big Bear. Call 909-866-4345 for more information. Hours are Monday-Thursday 10 a.m. – 8 p.m., Friday 10 a.m. – 10 p.m., Saturday 9:30 a.m. – 10 p.m., and Sunday 10:30 a.m. – 8 p.m.
Shirt Shanty
If you're looking for a wearable souvenir to remember your Big Bear adventure, make sure to stop into one of the fun Big Bear shops. In addition to shirts, you'll find jewelry, stuffed animals, souvenir-pressed pennies, and more. The shop is located at 684 Pine Knot Blvd in Big Bear. Hours are 10 a.m. – 8 p.m. Sunday-Thursday, and 10 a.m. – 10 p.m. Friday and Saturday. Call them to see if your favorite design is in stock at 909-866-7928.
Bear Essentials
They have more than just the "bare essentials." Local products like honey and syrup join, baking mixes, sauces, and more so you can replicate the flavors of Big Bear on your own. Take home a cup, mug, or apparel like hats, shirts, and novelty wear like knit winter hats in characters like Yoda, R2D2, Santa, and others. Pocket knives, gems, candles, ornaments, and jewelry make perfect gifts for loved ones who couldn't join you or bring home a treat for your pup with Big Bear gourmet doggie treats. They are located at 663 Pine Knot Avenue in Big Bear. Call 909-866-3957 for information Monday-Thursday 10:30 a.m. – 7 p.m., 10 a.m. – 9 p.m. on Friday, 9:30 a.m. – 9 p.m. on Saturday, and 9:30 a.m. – 8 p.m. on Sunday.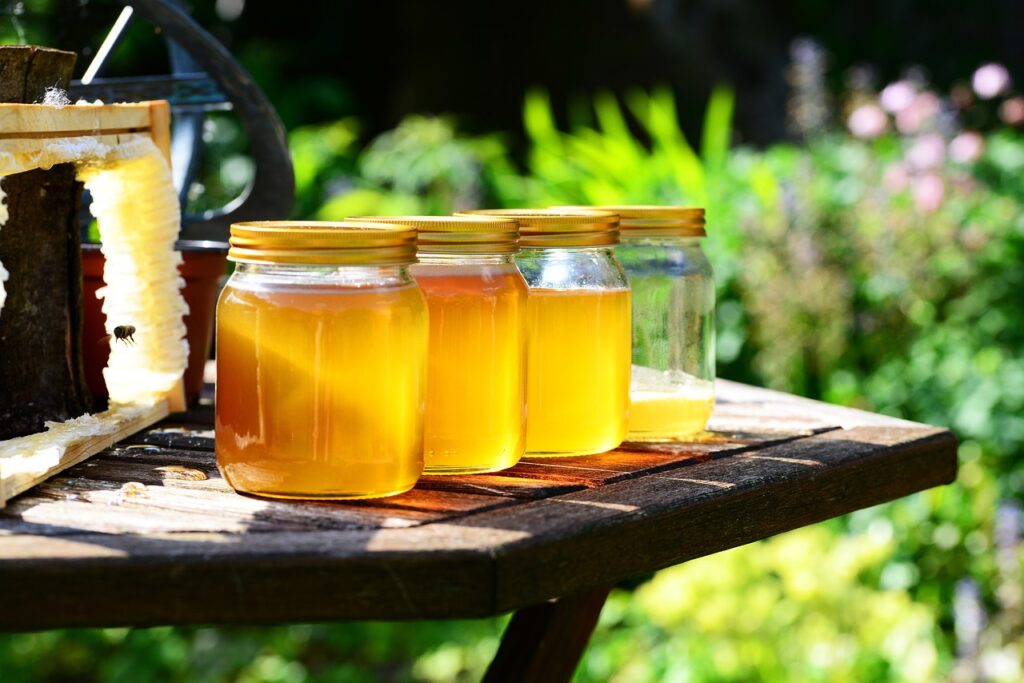 Bear Cupboards Market
Load up for your Big Bear vacation at-home cooking and eating needs. The boutique Big Bear shopping market carries kitchen staples like fruits and veggies, pasta, and more. Indulge in a sweet treat, cold drinks, or take home locally made jams, jellies, honey, and crafts. They also offer kitchen and bath items, decor, or other home items. They are located at 40850 Village Drive in Big Bear. Hours are Thursday and Saturday 11 a.m. – 6 p.m., Friday 11 a.m. – 8 p.m., and Sunday 10 a.m. – 5 p.m.
Barrel 33
Featuring a wine bar serving California-made wines, there are many other offerings as well. Stop in for a glass of wine at the wine bar and pair it with a charcuterie or other small plate or take part in a special Paint and Sip experience. They offer wine accessories, wine for purchase to take back and enjoy at your rental, and more. Choose from gifts like coffee cups and other souvenirs. Take your wine out on the patio to enjoy in the fresh mountain air and sit at a wine barrel-style table or other patio table. They are located at 40754 Village Drive in Big Bear. Hours are Sunday-Thursday 10 a.m. – 7 p.m. and Friday and Saturday 10 a.m. – 8 p.m. Call 909-878-0838 for more information or to find out if your favorite wine is in stock.
Getboards Ride Shop
You came to the mountain and lake village of Big Bear for plenty of outdoor fun during your vacation. Make sure you're fully equipped to enjoy all of those activities. One of the best Big Bear shops boasts rental equipment for water sports like kayaking and stand-up paddleboarding, as well as everything you need for your winter ski vacation. Rent a snowboard or skis, then outfit yourself with other winter sports apparel, ski boots, and more. Rent snowshoes for a different winter experience or browse for something else. If you're on the mountain and need service, they offer slopeside services for various needs. Visit them at 40977 Big Bear Blvd or 40905 Big Bear Blvd. Daytime hours are Monday-Thursday 8 a.m. – 6 p.m., Friday 8 a.m. – 8 p.m., Saturday 7 a.m. – 8 p.m., and Sunday 8 a.m. – 6 p.m. Night skiing store hours are 7:30 a.m. – 9 :30 p.m. on various dates throughout the ski season.
Big Bear Shopping Experience
You'll want to make sure to remember your Big Bear adventure of a lifetime with a few souvenirs, as well as an unforgettable vacation home base. Get exactly what you want from both by booking a vacation rental with Big Bear Vacations. Make a home-cooked meal in the fully equipped kitchen with locally made ingredients. Gather together on the couch and watch a movie or spend some time outdoors with the myriad of activities available. Choose a cozy one-bedroom for a solo trip all the way up to a sprawling five-bedroom for a fun family or group reunion full of shopping and fun. Each room has spacious closets where you can store everything you brought with you as well as your shopping finds! Book a premium unit for upgrades like stainless steel appliances, granite counters, hardwood floors, flat screen TVs and more!
Contact us today to book and take the first step toward planning your Big Bear retreat!