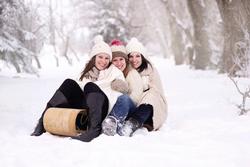 A classic winter pastime, sledding is a family-friendly activity that you can enjoy for hours when you plan your winter vacation in Big Bear. As Southern California's premier destination for skiing,snowboarding, and a host of winter recreation, Big Bear sledding is home to one of the coolest, most unique sledding set-ups that you'll find anywhere. Learn more below!
Where to Go and What to Know
There are several awesome places where visitors of all ages can enjoy sledding in Big Bear as well as snow tubing: Big Bear Snow Play, Grizzly Ridge Tubing Park at Snow Summit, and the Alpine Slide at Magic Mountain. Of course, you can find plenty of bunny hills and places to sled tucked in between, asBig Bear sledding areas are replete with hilly and mountainous terrain, but these groomed spots allow for maximum fun with minimal effort.
Of the three Big Bear sledding locales mentioned, Big Bear Snow Play is probably the most famous. Open for the winter season, Big Bear Snow Play is housed on what was formerly a ski run called Rebel Ridge. One of the longest runs in Southern California, Big Bear Snow Play offers visitors the extraordinary experience of lift-serviced tubing and sledding. Riding on an uphill lift known as "the Magic Carpet," sledding at Big Bear Snow Play makes it easier to spend hours sledding without growing too tired from trudging uphill with your sled. Some of the lifts are even covered, and Big Bear Snow Play also offers nighttime sledding with colorful lights.
If you find yourself on Snow Summit for skiing or snowboarding and want to wind down, or you're simply looking for another Big Bear sledding destination, Snow Summit's Grizzly Ridge Tubing Park is an excellent choice. Children need only to be forty-two inches in height or taller to ride the heavy-duty snow tubes that the park has to offer. The park also offers a $10.00 discount for visitors with same-day lift tickets or season passes to Snow Summit.
Finally, if you happen to be close to Big Bear Lake, you can check out the Alpine Slide at Magic Mountain. An authentic bobsled that uses Big Bear's natural mountain terrain to create a fun ride, you won't want to miss the one-of-a-kind experience of this ride. There's also space for traditional Big Bear sledding and snow tubing as well!
Escape to the Picturesque Mountains of SoCal with Big Bear Vacations
Contact our office for additional information on sledding in Big Bear and other family-friendly activities available in Big Bear all throughout the year when you reserve your accommodations in one of the alpine vacation rental properties that Big Bear Vacations has to offer today!