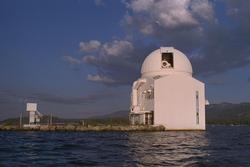 Whether you are traveling with family and have older children among your guests or you're simply fascinated by space and science, the Big Bear Solar Observatory is a unique and wonderful destination that deserves a spot on your vacation itinerary. Learn more below!
Enjoy "Edutainment" at This Cool Scientific Installation
Based out of Big Bear Lake off of Highway 38 just past the Big Bear Discovery Center, the Big Bear Solar Observatory is equal parts educational and entertaining for visitors. Here, scientists from the New Jersey Institute of Technology use enormous high-powered telescopes to view and study space weather, the global albedo of the Earth, solar surface magnetic structure intermittency, and other scientific topics of study related to the sun.
During certain days of the spring season of each year, public tours are offered to visitors that are ten years old and above who can be trusted to respectfully observe the fragile yet vital technology used by scientists in their efforts. Additionally, the public tours held at the facility are not ideal for visitors who cannot walk for long distances or periods of time, or who can't physically climb stairs. This is because the tour covers the telescopes utilized at the Big Bear Solar Observatory, which are located within three different facilities on the property and three flights of stairs.
Visiting the Solar Observatory in Big Bear is the perfect opportunity for older children and adults alike to dive into the mysteries of astronomy, space, and science within the beautiful alpine lake climate of Big Bear. An attraction like this just might be what your child needs to spark their inspiration and lead them down a lifelong path of discovery in science and STEM fields like astronomy, math, physics, and more.
If you or your guests feel that you cannot safely complete the tour, or if the tour availability of the Big Bear Solar Observatory doesn't quite sync up with your vacation plans, never fear; you can see the observatory for yourself online anytime by checking out the observatory's website and going on a virtual tour of the facilities at your own speed.
Big Bear Vacations – Your Gateway to the Wonders of Big Bear
Contact our office for more details on the Big Bear Solar Observatory and other incredible attractions and activities that you can enjoy in Big Bear when you reserve your lodgings with Big Bear Vacations today!